Suprime - cost saving Shipping Flatrate
Description
The shipping flatrate for regular customers and liquid lovers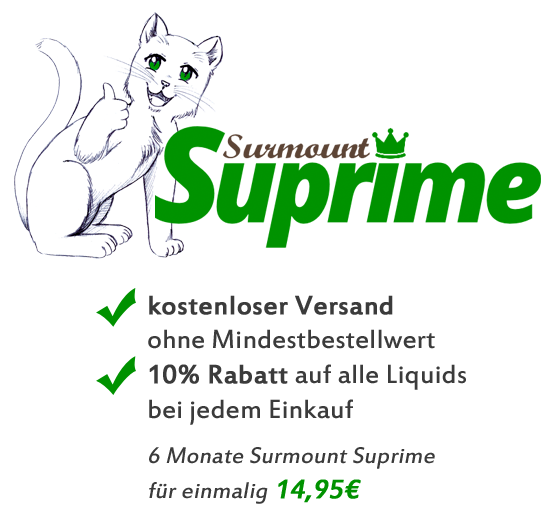 How I get the Suprime flatrate membership?
To become a Suprime customer, order this product - and of course all other things you wish. Your customer account will be updated for Suprime membership within one or two working days. From this moment on, you are granted the benefits of free shipping and 10% discount on all liquids for the period of 6 months.
Note:
The free shipping Option is only available in Germany! Liquid discounts can be used worldwide!
Tip:
If you order the Suprime shipping flatrate without any other positions, you can benefit from free shipping for the coming order.
When is the Suprime membership ending?
The Suprime membership is automatically being closed after 6 months. There's no need for a manual cancellation or other interaction. If you wish to prolong you membership, you can order the Suprime flatrate in the follow-up order. 

My Suprime-status
You can check your Suprime-status in your customer account section ("My Account").

I ordered Suprime, but my status remains unchanged?
We update the accounts "half-automatic", mostly during working days and several times a day. Don't worry, after one or two working days latest, your Suprime membership will be set up.
But: you have to log out of your account first, and log in again to make the membership work.
If you have the feeling, that it takes too long (over three working days), please contact us, so we can check your status.


Other things to know:
- The free shipping as a Suprime member is only available in Germany! Liquid discounts can be used worldwide!
- The shipping is still handled by DHL (for private customers with visual age check)
Fair-Use-Policy
You can benefit of Suprime at only one order per month. Of course you can order freely and as often as you wish to, because this is why Suprime was created: to make your vaping joy even more comfortable and flexible. But please be fair, since we pay the shipping costs anyways. Try to summarize your positions despite the possibilities of your Suprime membership. We subject to cancel the Suprime membership in case of abuse.
---