Mix-Liquid 50ml +Liquid-Shots
Description
Mix-Liquid 50ml / 0mg (+Shots)
An ordering-matrix to buy 50ml bottles of liquid -
without nicotine!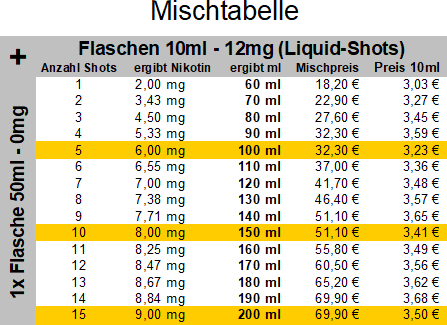 Preise:
50ml / 0mg: 13,50 € | 0,27€ pro 1 ml

Shots: 10ml / 12mg:
einzeln: 4,70 € | 0,47€ pro 1 ml
je 5 Stück: 18,80 € (VapeBox) | 0,376€ pro 1 ml
Tip:
Take the opportunity and combine different flavours in our empty Liquid bottles and cool individual bottle labels. Mix your personal favourite Surmount Liquid! 
Attention:
The liquids "Old Tobi", "Old Tobi Peach" and "Sherlock" are only avaliable WITH nicotine! This is why we cannot offer 50ml bottles for these flavours. But they can be mixed with liquids like Marokkan, Tuscany or Menthol.
Ingredients
VPG Base: Propylene Glycol, Glycerin (50/50)
VG Base: Glycerin, demineralized water (85/15)
Other: Food Flavouring, Nicotine (0 mg/ml nicotine in 'Non'), Tobacco Extract (only in "Old Tobi", "Old Tobi Peach" and "Sherlock")
---