Arcanum - Tester Set 5 x 10ml
Description
Arcanum - the new liquid brand from Surmount Supreme Liquid
Finally: new and unusual liquid compositions and concepts in ingenious design! We proudly present you the first line of Arcanum Liquids: Arcanum - Respawn. This concept series of delicious liquids is dedicated to one of our favourite activities, gaming. Respawn - Liquids for gamers and gusto vapers.
Get the Tester Set now and test our new ones!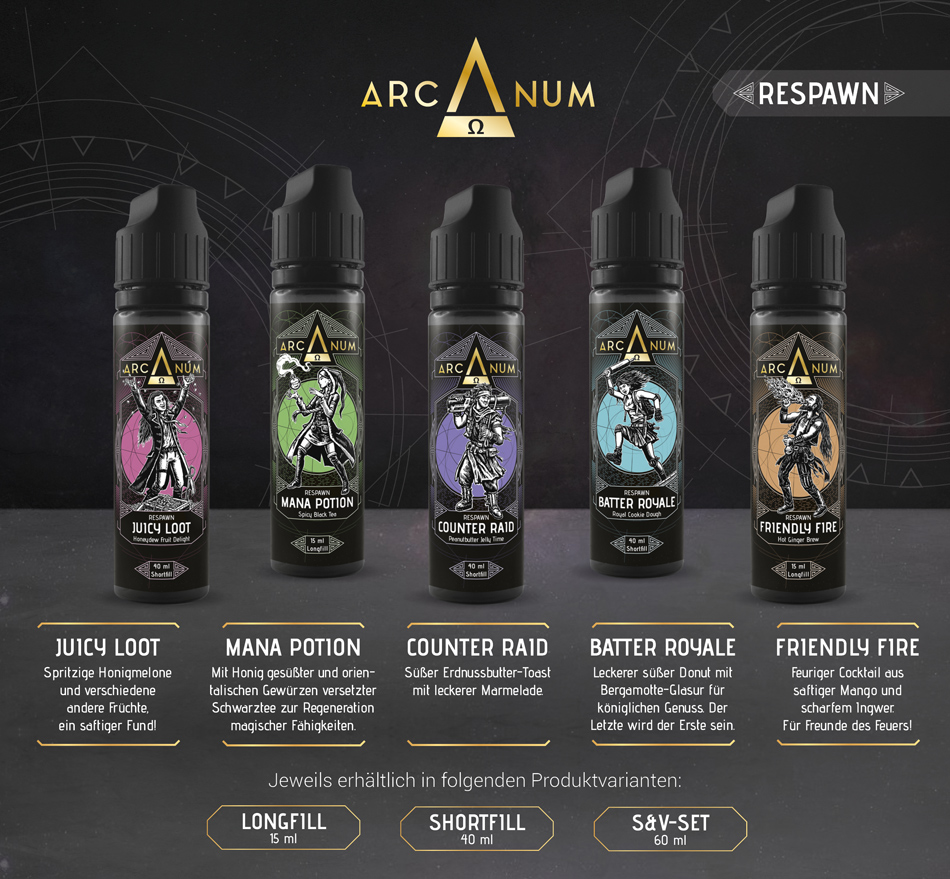 The test-liquids contain no (0 mg/ml) nicotine and have a 50 PG / 50 VG base.
 
Batter Royale
Delicious sweet doughnut with bergamot glaze for royal pleasure. The last shall be the first.
 
Counter Raid
Sweet peanut butter toast with tasty jam.
 
Friendly Fire
Fiery cocktail of juicy mango and hot ginger. For the friends of flames.
 
Juicy Loot
Sparkling honeydew melon and fruit mix, a truly juicy loot
 
Mana Potion
Honey sweetened black tea and added oriental spices to regenerate magic powers.
Further Arcanum lines are planned for the future.
Included in delivery:
- 5x 10 ml liquid without nicotine (0 mg/ml)
---
---